500Pints Industrial Greenhouse Dehumidifier WDH-10FG
Send email to us
Product Detail
Product Tags
315*248*230''

Backward inclined centrifugal fan

Heat exchanger (two devices) form

High-efficiency copper tube sleeve aluminum fin

Digital display (86 control box)

Dehumidification capacity

Straight row (inner wire G1/2 drain port)

187lbs
1. Adopt famous brand compressor.
2. Adopt high-quality internal thread copper pipe and high-efficiency hvdrophilic aluminum foil. With better dehumidification effect.
3. With the functions ofreal-time humidityt display, free setting and control.
4. With the functions of setting switching time. fault alarm and automaticprotection.
5. The machine can be connected with central air-conditioning air duct ofresh air duct. And the dehumidification effect is obvious and uniform.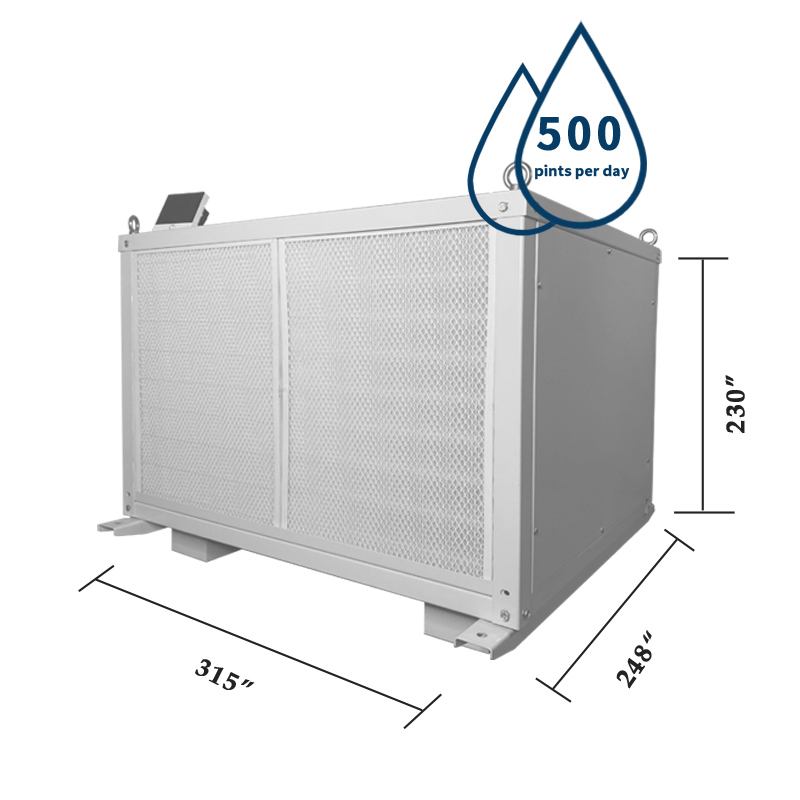 WDH-10FG
If you need to control humidity in a large shed we recommend a ceiling dehumidifier for 500 pints a day.
WDH-10FG adopts efficient natural drainage technology, which can quickly reduce the humidity in the greenhouse to the ideal level. Here are the key features of this dehumidifier:
1. Efficient dehumidification capacity: The dehumidification capacity of this dehumidifier is as high as 500 pints per day, which can quickly reduce the humidity in the greenhouse and maintain an ideal level.
2. Suspended ceiling style: The dehumidifier adopts a suspended ceiling design, which is easy to install, takes up little space, and does not affect other activities in the greenhouse.
3. Automatic control: The dehumidifier can automatically adjust the humidity according to the humidity value you set to maintain the stability of the humidity in the greenhouse.
4. High efficiency and energy saving: The dehumidifier adopts energy-saving technology to reduce energy consumption and operating costs.
5. Safe and reliable: The dehumidifier is made of high-quality materials with excellent durability and safety performance.
Suspended ceiling natural drainage dehumidifier suitable for 500 pints a day, especially suitable for humidity control in large sheds in the US market. It can be used in plantations, orchards, agricultural facilities, industrial plants and more to help maintain air quality and environmental stability.
---
Write your message here and send it to us
Products categories