120 Pint 55L Portable Commercial Dehumidifier For Crawl Space FDH-255P
Send email to us
Product Detail
Product Tags
SPECIFICATIONS

Model No.

FDH-255P

Voltage

110V /60Hz

Air Volume

550m3/h

Work Temperature

5-35℃

Power Input

550w

Air outlet size

Φ150mm

Refrigerant

R410a/R290

Dimensions

23.5*13*13 inch

Weight

61.7lbs
1. It is compact and lightweight with handle design, easy to be moved.
2. Adopt international famous brand compressor.
3. Adopt high-quality internal thread copper pipe and high-efficiency hydrophilic aluminum foil, with better dehumidification effect.
4. With digital display controller, could set humidity and time, easy to operate.
5. With G4 Pre-filter, effectively purifies the air.
6. The units is capable of dehumidifying an area of up to 1200 Sq. Ft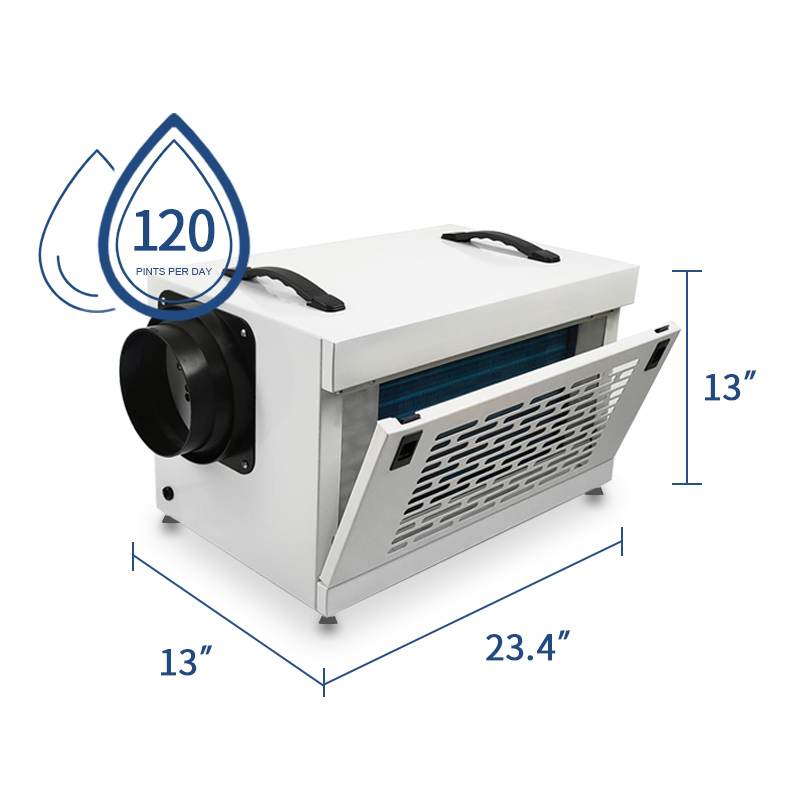 FDH-255P
Capable of handling 116 pints of humid air per day, FDH-255P ensures your basement will always remain dry and comfortable. Here are the main features of this crawl space dehumidifier:
1. Efficient dehumidification capacity: The dehumidification capacity of this dehumidifier is as high as 116 pints per day, which can quickly reduce the humidity in the basement and effectively prevent mold, rot and bacteria from growing.
2. Independent operation: The dehumidifier can operate independently without connecting with the main air conditioning system, and the operation is simple and convenient.
3. High-efficiency filter: The dehumidifier is equipped with a high-efficiency air filter that can effectively filter dust, pollen, and other air pollutants to improve the air quality in the basement.
4. Low Noise: The dehumidifier is designed with silent technology, the noise is very low and will not interfere with your daily life.
5. Automatic control: The dehumidifier is equipped with an intelligent humidity control system, which can automatically adjust the humidity according to the humidity value you set to maintain the stability of the humidity in the basement.
6. High efficiency and energy saving: The dehumidifier adopts energy-saving technology to reduce energy consumption and operating costs.
FDH-255P can be used in crawl space, container grow, basements, wine cellars, storage rooms, cellars and other wet underground spaces. It can effectively prevent moisture problems in the basement and provide you with a dry and healthy environment.
---
Write your message here and send it to us