60000BTU Tent Air conditioner KC-60
Send email to us
Product Detail
Product Tags
Specifications: 
SPECIFICATIONS

Model No.

KC-60

Voltage

AC380V/50Hz/3P or AC460V/60Hz/3P

Cooling Capacity

600

00

B

tu/h

Cold Air Volume

350

0m3/h

Rated Power Input

7.0K

W

Refrigerant

R410A / R407C

Work Temperature

18

-45

℃

 (65-113°F)

Indoor Noise

50dB

Outdoor Noise

60dB

Applicable Tent Area

30-45m2

Weight

230

kg

Dimension

1380*1030*1250mm
1. Easy installing, just need connect the flexible duct to tent air conditioner and the tent,connect the power, then unit can start to work;
2. Easy transportation, have four wheels in the bottom, can be moved on the ground easily.
3. Rotary compressor to ensure refrigeration capacity.
4. Environmental friendly refrigerant, save energy.
5. With direct drainage, be able to drain water conveniently.
6. All metal design to be stronger.
7. Temperature control by LCD wire controller, with cooling, heating function.
8. Waterproof electrical parts, could be used for outdoor.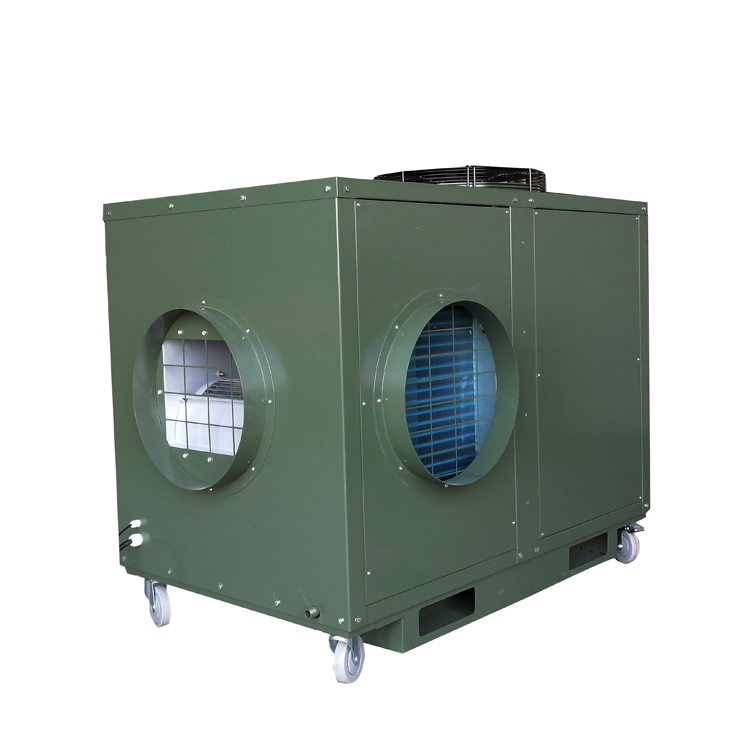 KC-60
Tent air conditioner is a powerful cooling system specially designed for large tents and outdoor activities. It adopts advanced technology and innovative design, which can effectively reduce the temperature inside the tent and provide a comfortable environment.
This large tent air conditioner has a powerful cooling capacity, which can quickly reduce the temperature inside the tent and keep people away from the stuffy and uncomfortable atmosphere. It uses a highly efficient compression condensing cycle system that quickly absorbs heat and expels it away, ensuring that the tent interior remains cool at all times.
The air conditioning system is also equipped with an advanced air filter that can effectively purify the air, remove dust, pollen and other pollutants, and provide a clean indoor air quality. It also features adjustable fan speed and temperature controls, allowing users to adjust to their personal preferences and needs for optimum comfort.
In addition, large tent air conditioners are also durable and portable. It's made of durable materials that can withstand the outdoors. At the same time, it is also easy to carry and install, making it easy to use in various outdoor activities.
All in all, the large tent air conditioner is an impressive technological innovation that provides a comfortable environment for outdoor activities. Whether it is camping, field adventure or outdoor activities, it can bring people a cool and comfortable experience.
---
Write your message here and send it to us
Products categories